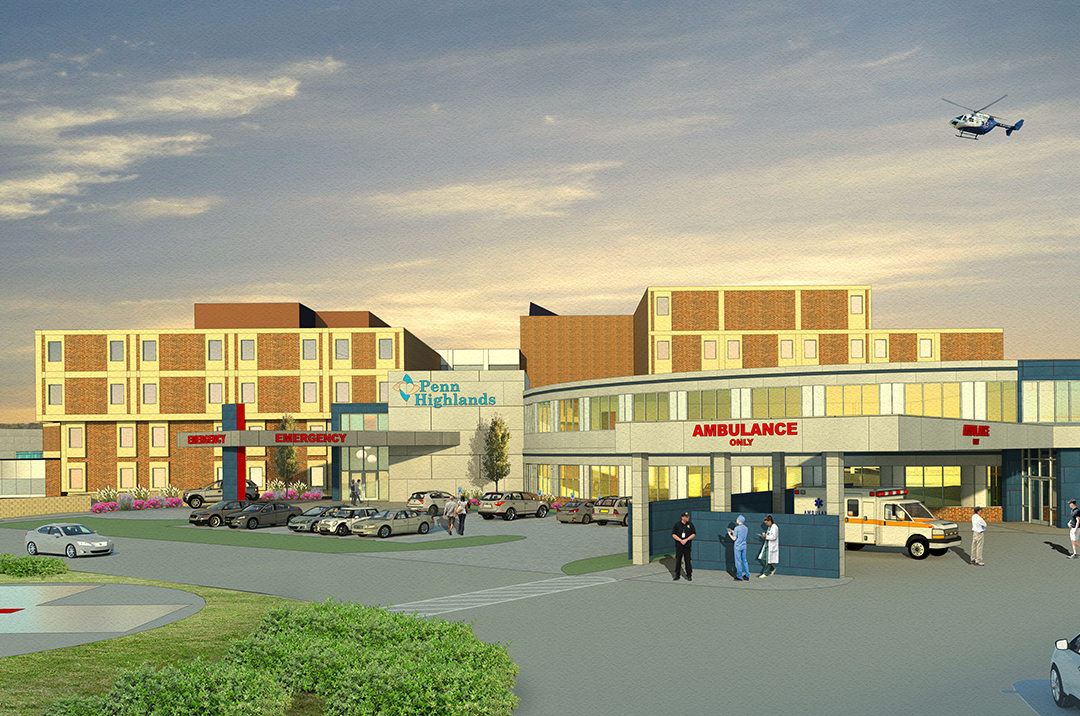 Emergency Department
Penn Highlands DuBois is working to become designated as a Level II Trauma Center for the benefit of patients in the region. Currently, many patients must be transferred from Penn Highlands Healthcare's six hospitals' emergency departments or from the location of accidents. These patients are transferred out of the system and out of the region to facilities that are designated trauma centers in Altoona, Erie, Danville and Pittsburgh. These transfers can create hardships, travel issues, and emotional strains on family members.

As part of the accreditation process, PH DuBois is expanding the Emergency Department. In order to do this, other services in the hospital had to be relocated. The kitchen and cafeteria services were moved to the new West Wing Annex and new operating rooms and recovery areas were added to the 4th floor of the annex. Work is currently proceeding on the 5th floor of the annex to add TAVR (Transcatheter Aortic Valve Replacement) services. The addition of TAVR to the cardiac surgery program provides an option for minimally invasive valve replacement services.
The new Emergency Department will have two finished floors. Three additional floors may be added at a later date to support service volumes. The current emergency department has 19 bays. The future emergency department will have 36 treatment areas. There will be 28 bays, four of these bays are designed to support care of trauma patients. Recognizing the need to provide care to people with behavioral health concerns, four bays are designed to support behavioral health needs. Rooms are also designed to support the specialty care of pediatric patients and the needs of sexual assault victims who require different equipment and a higher sense of privacy. There will be an eight bay area that will be used for as a fast-track for patients who have ailments that can be treated quickly and released, many within an hour. As a Level II trauma center, PH Dubois must be prepared for mass casualty events. A decontamination area with deluge showers and lock down security is also part of the expansion project. An additional heli-pad is also being added to accommodate additional trauma volume.

The second floor of the new Emergency Department is designed as a neuro/trauma critical care unit. This unit will support the needs of neurosurgery patients as well as patients needing post trauma care. All of the rooms will be single occupant rooms with private bathrooms. These rooms are acuity adaptable and may allow us to avoid moving patients as they progress through their hospital stay. In total, completion of this second floor will increase bed capacity by 20 additional rooms.